Testimonials
Some of the Hospitals, Hotels and Clinics using our gaming systems in the US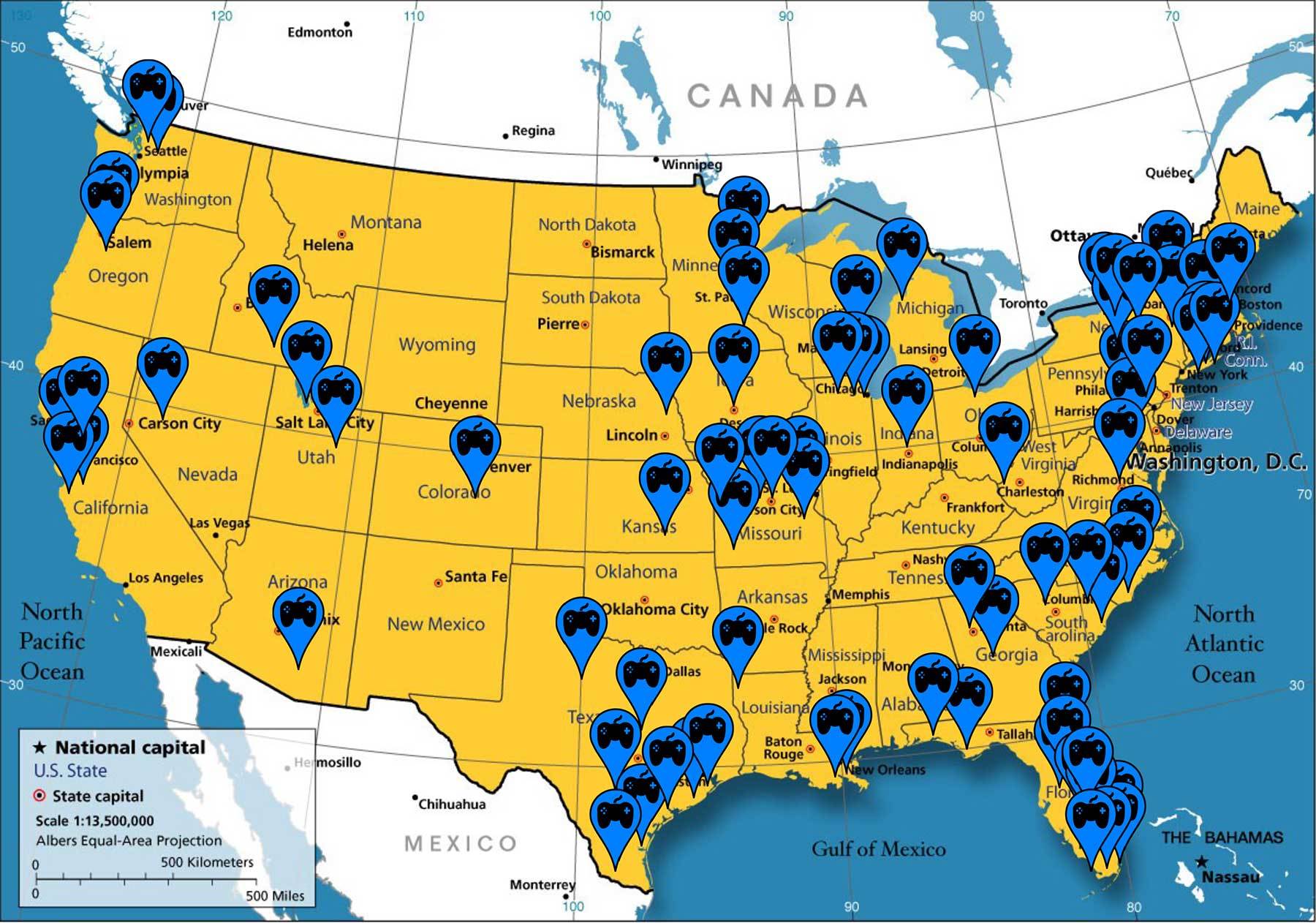 We use Fully Loaded and the kids LOVE them. It provides an outlet of normalization in the hospital where things aren't so normal.
- Hannah Boyd, CCLS @ UMC Health System, Pelham, AL
Our most requested gaming system is an Xbox so we are thrilled that we are able to provide multiple FLE Xboxes to our patients in the teen lounge and on carts that can be taken into rooms where patients are on isolation. It is so convenient to have everything in one place instead of dealing with multiple discs that have the risk of getting lost or damaged. Patients, especially teens, have mentioned this has made their stay in the hospital a LOT better!
- Ellen Merrill, CCLS, Children's Memorial Hermann, TX
We love Fully Loaded Gaming Systems because they help us serve patients and families better! Patients and families have the power to choose when and what they would like to play on the gaming system whenever they would like.
- Amanda Roberts, Children's Hospital of Atlanta, GA
Our pediatric patients (and their families) LOVE using the fully loaded electronics.  It brings a sense of normalcy and fun to the hospital environment.  The fully loaded systems are amazing because we don't have to keep track of games! It's one less thing for us to lose 😊  These systems truly do make a difference for our patients during their hospital stays and I appreciate our partnership with Fully Loaded Electronics.  Thank you!
- Janet Grom, CCLS, Banner Children's, AZ
We utilize fully loaded every single day to help bring brightness and joy to our PICU and oncology patients. Our staff also loves fully loaded because our staff knows how much the video game console helps kids feel more at home even though they can't go home yet and allows them to feel like a kid for the time being.
- Ryan Lohr, Child Life, Inova Health System, VA
Fully loaded has provided so much joy, distraction & fun, for our patients & families.
- Sara Narimanian, Nemours Children's Hospital, DE
At Crozer, we love utilizing these preloaded game systems. For our patients and parents, this provides a great experience with a wide variety of games for them to enjoy. For our nurses, they don't have to keep track of disks or cartridges, making set up and cleanup that much easier. We are more than happy with their pleasant customer service, who made the whole experience awesome, ensuring we got the items we wanted.
- Danilo Tadeo, Crozer-Chester Medical Center, PA
Working in a hospital with sick children, Fully Loaded has provided an amazing service to normalize the patients time with us.  We have the Xbox One's that get updated every six months.  This is great to keep up to date and exciting for the kiddos who utilize our unit.  Fully Loaded has great customer service and always here to help!!!  Highly recommend
- Sonya Sterbutzel, Inova Loudoun Hospital, VA
The game carts from Fully Loaded Electronics are awesome!!  No game discs to keep track of, just install and good to go.  Which is a must in the busy hospital environment.  Prior to FLE, we were always replacing video games because the games would disappear or stop working from overuse and hospital grade cleaning.  No need to track down the games anymore since it's all loaded into the system.  Kids and families enjoy the variety of games and the ease of use.  Staff appreciate having mobile gaming systems for kiddos who can't come to our activity rooms and play video games.  The game systems are easy to move around, sturdy,  and visually appealing.
- Shannon Joslin, CCLS, University of Maryland Children's Hospital, MD
Our Pediatric patients LOVE our fully loaded electronic systems!  It is so nice to have one system with numerous choices of games and movies for them. The system provides distraction for our patients that have to endure hospitalization… and their choices are so diverse, they do not have time to get bored with it! Highly recommend these systems!  In addition to this, the company is very receptive to questions and feedback… and help if we need it!  😊
- Michelle Strickland, Piedmont Athens Regional Hospital, GA
We love using Fully Loaded Electronics with our patients.  We utilize the games to provide distraction and use to build rapport with our patients.  It has been great having the technology patients and families want during their hospitalizations.  Thank you for helping make the hospital more child-friendly!!
- Sarah Sands, Cincinnati Children's Hospital, OH
Thank you for the wonderful gaming systems! This time of year is super busy for us and the majority of our patients are in isolation because of flu and respiratory illness. The systems are so perfect for these kids and they LOVE, LOVE, LOVE them! It is an amazing distraction for the kids and their families to help pass the time while being in the hospital! We are so grateful to you for these gaming systems!!!
- Wendy Pauker, Child Life Manager, Banner Children's Hospital Thunderbird, AZ
Fully loaded electronics is my go to place to find solutions for making our electronic programming streamlined! I love Fully Loaded Electronics because with some of the systems the games are programmed right on them! It is less for me to store in the playroom and the patients have all the games they need at their fingertips! 
You guys are my go to place for all of my electronic needs!
- Bethany Sweet, CCLS, Maine Medical Center, ME
Thanks to the services provided by FLE we are able to engage with our youth population in a way that helps to build teamwork, teaches them better coordination skills, and keeps them curious about what else the modern library has to offer. This out of the box solution means there is less time for staff to configure and lock down the system, and more time for our Teen and Family Librarians to offer programming, build lasting relationships with the community, and provide a safe space afterschool.
- Robert Nunez, Division Head for Support Services, Kenosha Public Library, Wisconsin
Now that we have Fully Loaded Electronics, we see the biggest difference in customer and technical support. Whether on the phone or via email, I can always rely on the staff at fully loaded to help troubleshoot my video game system woes. There hasn't been a single time that I've reached out with an issue where the issue hasn't been either resolved or I've been provided with a variety of solution suggestions. I appreciate the kindness, timeliness, and expertise of your staff. Though I am not a "gamer" myself, I feel confident assisting my patients, families, and coworkers with video game system needs at Nationwide Children's Hospital knowing that Fully Loaded Electronics is just a phone call or email away. Thanks for all you do!
- Laura Nester, CCLS, Nationwide Children's Hospital in Columbus, Ohio
EXCELLENT! This has really enhanced the patient experience and patient satisfaction. Staff and families love the variety and ease of use. They don't have to wait for staff to get them games or movies. The FLE staff were fabulous to work with. They gave us great tips and suggestions and really let us customize our machines to our specific populations. These gaming systems can even be added to 'wish lists' like Child's Play!

- Beth Christian, Child Life, Doernbecher Children's Hospital in Portland, Oregon
Shelly was easy to work with and quickly made adjustments to our quotes to provide exactly what we requested. [Easy set-up] is by far the best part of purchasing these systems. I was able to go from opening the box to allowing a patient to play in 10 minutes! We absolutely plan to order more when budget/donations allow!

- Erin Roper, Children's Mercy Hospital, Des Moines, Iowa
Shelly was very pleasant to work with. She was very accommodating and was always answering all my questions (because there were a lot). Loved communicating and sharing hospital concerns with her which she was able to work out. Items were packed well and easy to install. We are awaiting more funds to order more gaming systems. We know that they are needed on the units because of how successful they've shown to be.

- Zuli Clavell, Florida Hospital for Children, Orlando, Florida
We have had our Fully Loaded systems for a few years now but were looking to update the movies and games. FLE has been so easy to work with during this process. FLE has been a great company to do business with!!!

- Tiffaney Shaffer, Pediatrics, Shannon Medical Center, San Angelo, Texas
Easy to use. Our staff is very excited that we are able to offer this to our patients. Our patients and their families have thoroughly enjoyed being able to watch movies and play games during their hospital stay. Having the ability to watch one of their favorite movies from home, brings joy to the patient. We are looking into providing more patients with joy and normalization of the hospital environment by utilizing FLE.

- Melissa Johnson, CCLS, Gulf Coast Regional Medical Center, Panama City, Florida
Ordering from FLE was such a simple task! Shelly worked with us to add particular games to our console and make it the best fit for our hospital. Kids are always surprised when they realize the games are already loaded on the system. We will absolutely order more from Fully Loaded in the future because we have seen the benefit of having games on the system. You don't have to worry about discs getting ruined by scratches, etc.

- Kimberly Hernandez, McLane Children's Medical Center, Dallas, Texas
FLE has been incredibly accommodating in helping us customize our order to make sure the movie and game selections would fit our needs. We plan to order more systems for another unit. The patients and families seem to really like the systems and having them has certainly reduced the amount of calls we're getting for DVDs and games (which frees us up for more direct patient care!).

- Jessie Hagerman, Baystate Children's Hospital, Springfield, Massachusetts
Everything was so well organized. I was able to choose games which I knew our oncology patients of all ages would love. When they were delivered, I was able to open the box, plug the systems in, and start playing! Everyone loves them.

- Devon Gulick, Lehigh Valley Children's Hospital, Allentown, Pennsylvania
Great gift! Came with all the movies and games my son wanted!!

- Martha, Raleigh, North Carolina
Excellent transaction. Great communication. Awesome deal, as described! Thanks

- Craig, Shreveport, Louisiana
Thank you. It's very nice. My children are happy with the movies!!!

- Alissa, Rockford, Illinois
I owe you a huge thanks, my hubby loved his birthday gift!! I am very impressed with the speed of the order.

- Margaret, Los Angeles, California
Great product. Great service. Very nice people!

- Brittany, Shreveport, Louisiana
Terrific transaction.....excellent product....Outstanding customer service.

- Nola, Lake Oswego, Oregon
My experience with Fully Loaded was great! The info on the website was helpful and the order process was smooth.

- Amy, Salt Lake City, Utah
Great buy, super fast delivery and some little guy is going to be very happy at Christmas!

- Donna, Winnabox, North Carolina
A perfect birthday gift for my husband. He loves it! Great service.

- Vicki, Miami, Florida
Super fast shipping!! Great communication!! A+++ Thanks!!

- Dave, Laramie, Wyoming
I bought it for my granddaughter and she loves it -- in perfect shape – thanks!

- Barbara, Tampa, Florida
Shipped fast, excellent condition. Very helpful and kind.

- Sheryl, San Diego, California
I love the PSP Go and will definitely buy from you again. Thanks for everything!

- Kathy, Rochester, New York
My highest recommendation. Fast, friendly, A+ support and exactly as advertised.

- Ed, Denver, Colorado
Wonderful seller with excellent communication. Highly recommended. A+ Thanks.

- Tony, Arlington, Texas