The game system 
The Nintendo Switch is a handheld gaming system that is focused on family friendly games and portability. Its main components are the Switch screen, the two detachable JoyCon controllers, and the Switch dock. The controllers are used as one when attached to the screen, but can be removed and used as separate controllers via Bluetooth for two-player games on the same system. The Switch dock is mainly for connecting the Switch to a TV, and can also be used to store, charge the Switch and connect it to a hardwire internet connection. It can play games using game cartridges that store one game on each cartridge. It can also play games that are downloaded to an SD card installed in the system.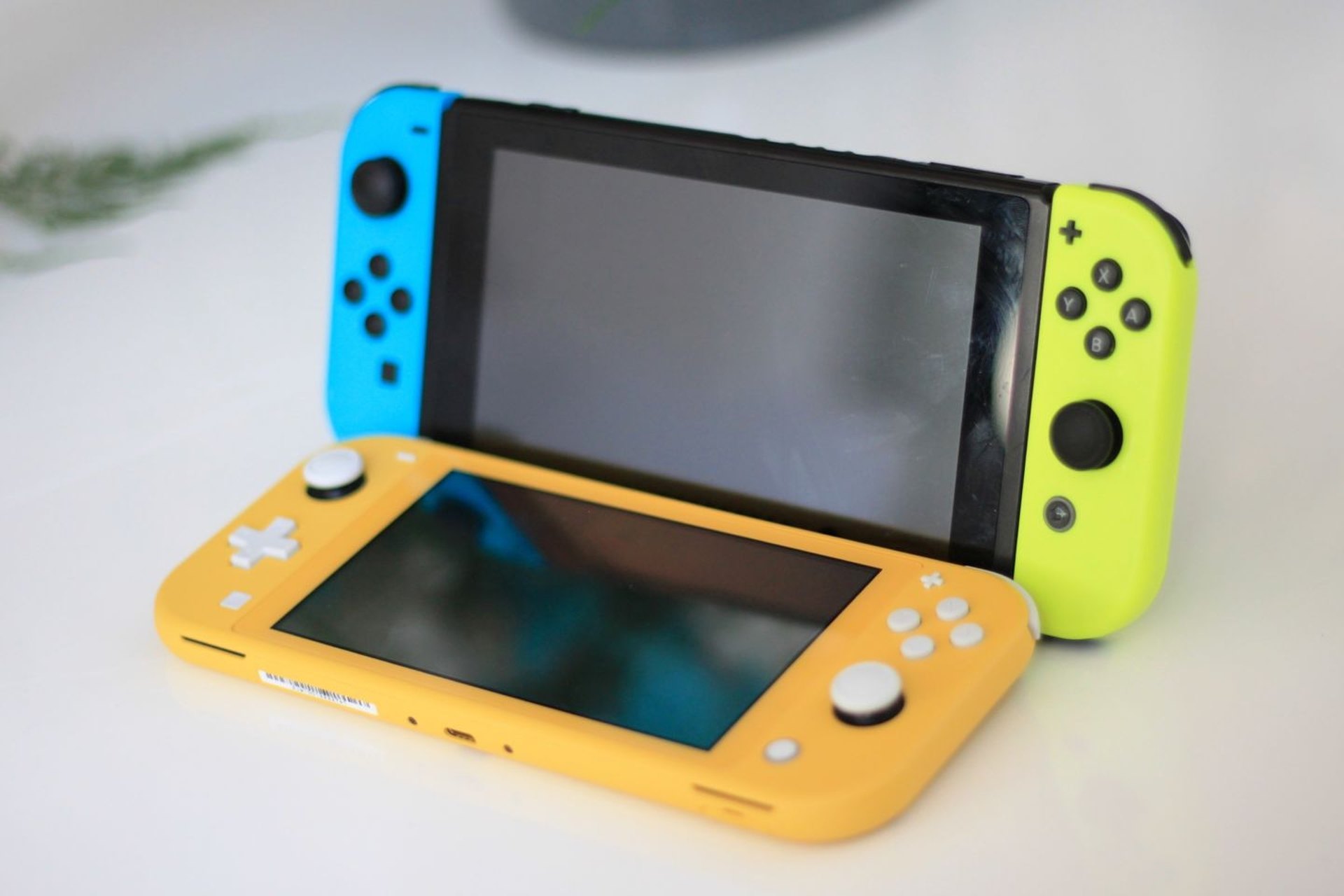 The Nintendo Switch Lite is a smaller, more portable-centric and kid-friendly version of the Switch. It does not have detachable controllers, nor a dock to be connected to a TV. It can still play game cartridges as well as games from the internal, removable SD card.
Removing Wi-Fi capabilities
FLE specializes in preparing video game systems for use in public spaces such as children's hospitals, schools, and corrections centers. For applications outside of corrections, we use the system's software options to enable parental and anti-tamper controls to limit the player's access to internet options such as the eShop or multiplayer functions. As it stands, the Switch does not have options to restrict Wi-Fi access at the software level.
For corrections, we recognize that having internet completely disabled is what can allow for inmates to enjoy the distraction and normalcy of video games, while staff can stay worry-free of players somehow getting access to internet. The Nintendo Switches and Switch Lites that we provide to corrections centers are guaranteed to not have access to wi-fi. We take a hardware approach to disabling internet – the wifi antenna itself is removed from the device and therefore no wireless internet signal can be received. This way, players will not be able to wirelessly connect to internet, download games/apps from the eShop, play multiplayer games between multiple consoles, communicate wirelessly, or anything else that requires an internet connection.
Playing games on the Switch
In order to play games on the Switch, it requires the player to set up an account with an email address and password. FLE further prepares ready-to-play game systems by creating these game accounts with our own email addresses, managing them, and downloading games directly onto the console. This way, there is virtually zero set up time required by the player or staff to start having fun!
Usually, we install games using a "bundle" system – our clients can look at the bundles of games that we have on our website, and choose an appropriate game list that fits their game or budget needs. The bundles we carry cover a wide range of ages and playstyles, and so are best for serving multiple players that will be using the same system.
We understand that corrections facilities may want to employ a situation where inmates purchase the systems for their own use, and therefore request games that are specific to their tastes. We can quote pricing for a customized list of games that the client requests. If you're looking for a certain list of games, whether it be for a specific individual or a standardization for a broader population, we're happy to provide custom pricing for a Switch or Switch Lite with internet removed, an internal SD storage card, and those games loaded on.
Our games loading service simplifies many aspects of the gaming and customer experience. Our customers save staff time and organization money by leaving the finding, vetting, purchasing, and installing of games to our team. The games we provide as a part of our bundles are free of any material that would imply or instigate criminal activity, and that if a custom game list is requested, we can bring up potential issues that the game might have in regards to appropriate content. Having games downloaded also means that there is no need for physical games – less interchanging parts in the system means less items to keep track of. Furthermore, FLE's digital versions are inherently the most updated version of a game. Physical game cartridges are the game's Version 1.0, and nowadays many require a "Day One Patch" that must be downloaded. From the internet. These updates usually include important bug fixes and quality-of-life improvements that keep the game running smoothly.
Commitment to customer satisfaction
Our ultimate goal is to provide video game systems that work seamlessly in your space without the need for staff intervention, technical know-how, or extra stress. Our game systems come with a limited 3-year warranty that covers any manufacturer's defect unrelated to wi-fi removal or device damage. We also provide lifetime technical support that can help with any questions you may have about your device. If you need extra warranty coverage or more games down the line, we have multiple options to keep your devices maintained and updated. We're happy to oblige any request or inquiry to ensure our product is a solution for your needs!
Contact us today for Nintendo Switches with Wi-Fi removed!
 Email: shelly@fullyloadedelectronics.com
Phone: 425-582-3173